Exclusive BELA Benefits
Enhancing Ethical Performance:
Industry Leading Data & Tools

Peer & Mentor Network
The member roster gives you direct access to your peers enabling the sharing of "what works" across the community.

Benchmarking
Benchmark against Ethisphere's dataset of leading practices from the World's Most Ethical Companies®.

Centers of Excellence
Leading resources, thought leadership, practical insights built and delivered by member companies.

Ethical Culture Quotient
Evaluate the effectiveness of your training, communication efforts and the willingness of your people to raise concerns.

Live & Virtual Events
A year-long conversation and access to Global Summits and Local Roundtables with pan industry best practices and networking.

Resources & Research
Access Resources including: Peer Insights, Downloadble Presentations, Research, and the Integrity Matters Podcast Series.
Nominate a company for BELA Membership by getting in touch with our membership account team.

Hosted by General Electric and Ethisphere's Business Ethics Leadership Alliance the "Integrity Matters" monthly podcast series will be hosted by Al Rosa, Chief Compliance Director, General Electric and feature interviews with top ethics and compliance leaders from major multinationals.
Episode One:
Alex Dimitrief, General Counsel, GE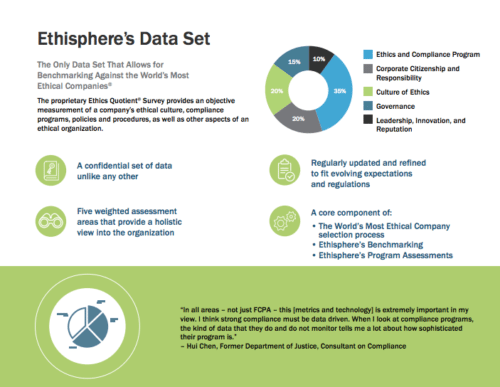 Benchmark Against Ethisphere's Data Set of Leading Practices
A non-intrusive way to compare your practices in 5 key categories: compliance & ethics program; CSR & sustainability; culture of ethics; governance; and leadership, reputation & innovation.
The Most Effective Way to Assess Your Ethical Culture
Ethisphere's Ethical Culture Quotient is a full-service, survey driven culture measurement and assessment offering that is built to evaluate the effectiveness of your organizations' communication, training, and compliance efforts.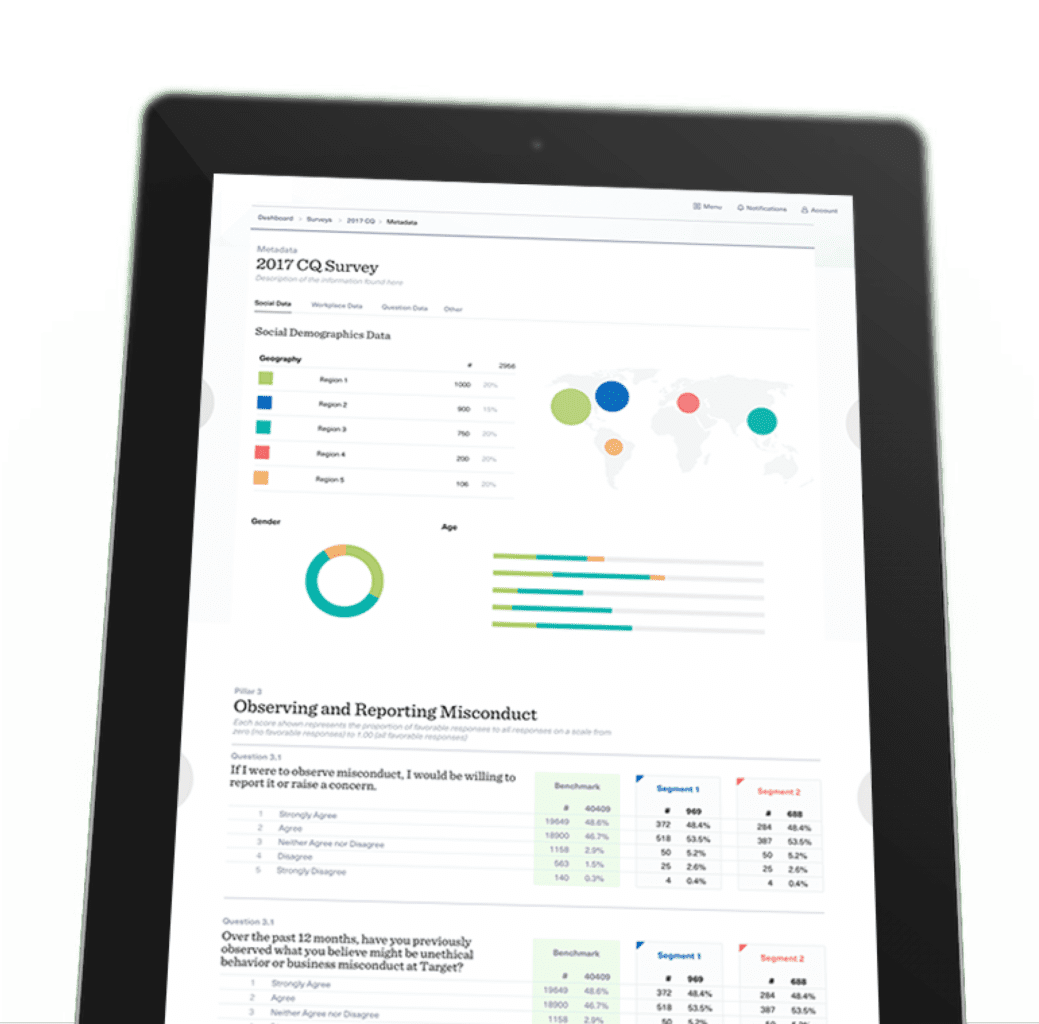 Ethics & Integrity Resources
A Sample of BELA's Best-In-Class Research, White Papers, Webcast, Podcasts, and Centers of Excellence
A Year-long Conversation Across Cultures, Geographies, and Functional Boundaries
April 4, 2018
Insights and Trends from the 2018 World's Most Ethical Companies
April 5, 2018
Hosted by Fifth Third Bank | Cincinnati, OH
April 18, 2018
CREATe and Ethisphere - Tapping into Transformational Practices
April 26, 2018
Hosted by Salesforce | San Francisco, CA
Executive Leadership Roundtable
May 2-3, 2018
Hosted by 3M | St. Paul, MN