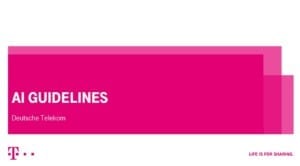 BELA member Deutsche Telekom shares their AI Guidelines. This framework was established to provide ethical rules for the development of intelligent technologies. The following excerpt from the preamble addresses why these guidelines are necessary.
After several decades, Artificial Intelligence has become one of the most intriguing topics of today –and the future.
This technology can bring many benefits based on improving customer experience or simplicity. With these comes an increase of digital responsibility on our side to ensure that AI is utilized in an ethical manner.
The following Digital Ethics guidelines state how we as Deutsche Telekom want to build the future with AI. For us, technology serves one main purpose: It must act supportingly. Thus AI is in any case supposed to extend and complement human abilities rather than lessen them.
View the short slide deck on the AI guidelines.
Read the full language of the AI Guidelines in both English and German.