Framework for Integrated Compliance Management (ICM)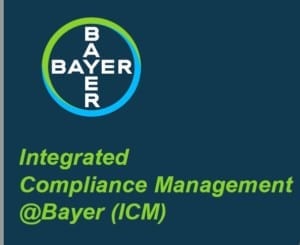 How do you take compliance training, engagement, and communication from annual requirements, internal blogs and audit and enforcement, to an integrated part of day-to-day business?  In this presentation, BELA member Bayer shares their framework for bringing preventative measures into daily business activities to better address compliance risks. Organizing the approach around four pillars of compliance – Compliance Regulations, Functional Processes, Compliance Monitoring, and Training – and clearly establishing roles and responsibilities in the ongoing life cycle management of ICM packages provides the foundation for success.
This first part of the presentation walks through the key elements of the framework and the second part of the presentation takes the reader through the framework using the example risk area of anti-corruption.